Questions and Photos by Dale Travers
Here in Brisbane we are noticing a bit of a change in the air. Skatebiz tells me they are still selling skates. We are seeing new groups of kids showing up at skateparks and everyone seems to want to roll more. Personally I think it has a lot to do with Gerard Ahrens from Velvet Couch Clothing. He started the Wednesday Night Skates to get everyone out mid week for a roll. Facebook has a lot to do with it as we have a "Brisbane Rollerbladers" Facebook page set up by Luke Stonebanks and Gerard. It's just a place were people can post when and where they are rolling. It's a simple but effective tool as everyone is on Facebook these days.
I had a chat with Gerard to see how things are going as I try to attend every Wednesday to either skate or shoot photos to help promote it and get the word out.
DT: Hey Gerard how ya doing man?
GA: I'm good bro!
DT: Just a quick back round on yourself, how long have you been rolling and what do you do?
GA: Well i have been rolling on and off for the last 16 years including time out from various injury's I mostly skate street but also enjoy a bit of park what ever it takes to be out rolling with my mates.
DT: When did you start Velvet Couch Clothing?
GA: I started VC in 1998 and it has grown so much over the years. We have had so many good comps and gigs and always pushing the rolling scene through out all of it. Trying to get new people involved into the rolling scene. We have the new 2010 line about to drop which will melt your face right of your head haha
DT: How are the Right 2 Rolls going?
GA: Right 2 Roll is always the best day!! R2R 7 was a mad chilled day at paradise city with the best ledges and the slip and slide going, I thought i would make number 7 a bit more chilled cause everything in the city is getting capped and the secers are out in force a bit more these days so we found the best spot to hold the comp. But this year R2R8 will be back in the streets of Boomtown around November. I also had the R2R DVD done on my computer but my hard drive crashed and lost everything so it has been a tedious task capturing all 7 R2R's and re editing it all but we should have it out this year. So remember; if you keep supporting VC we can keep bringing you these comps.
Gerard Ahrens / Natural Transition to Pole Stall / Valley
DT: How long have been organising the WNS?
GA: Well the Wednesday Night Super Roll started a while ago it is a really good way to break up the week and hang out with your mates and go out and hit some street.
DT: What is the WNS?
GA: Wednesday Night Super Roll is a mid week street session followed by a beer or 3 at fiddlers elbow ( back packers ) $7.50 jugs cant go wrong, so after the roll we all go there and party it up and reflect on the adventures from the hours before.
DT: How many skaters are coming and have you seen an increase in numbers over that time?
GA: We normally have about 10 - 15 peeps with us but some night there has been like 40 + which is crazy. Every week we see a new face which is dope as!!!
DT: I was in Arizona last year and they have the TNS every week, their numbers are huge and mostly young kids, theirs is thriving and building every year. Do you see our numbers building and our scene getting stronger?
GA: Well yes our scene is defiantly getting stronger every week more and more people are strapping on the boots and are out rolling. VC has been showing rolling dvd's in various nightclubs and gigs to show people what we do to break the stereo type of rollerbladers are gay cause i can assure you that no one is saying that when they see what we do.
Gerard Ahrens / Backside Unity Up The Ledge / Herston
DT: What did you think of the Skatemeet?
GA: The skate meet was mad fun!! Everyone had a roll and was a dope atmosphere its just a shame it got rained out. But looking forward to the next one!
DT: What's the future for Brisbane rollerblading?
GA: VELVET FUCKING COUCH MOTHER FUCKER!!! haha Well like everything its a full circle skate boards were in, then bmx now scooters, rollerblading has to be next!! But we just need to keep pushing the sport and get it out there to people and kids that would never get to see what we do.
DT: Thanks for your time Gerard and any last shout outs?
GA: To the entire VC fam for all there support over the years and the best parties!!. Everyone who has ever made it out to a R2R, The Thompson Massive!!! Great times with you guys. Skate biz, Guy from red, The VC Knights, Clockwork records. All the VC designers Cammo, Mystik, Sofels, etc. big Zeus dog and snake. Any one who has ever drunk out of a shoe much respect!
Other Photographs from the Brisbane Wednesday Night Skate:
Rob Kellett / 540 / Capalaba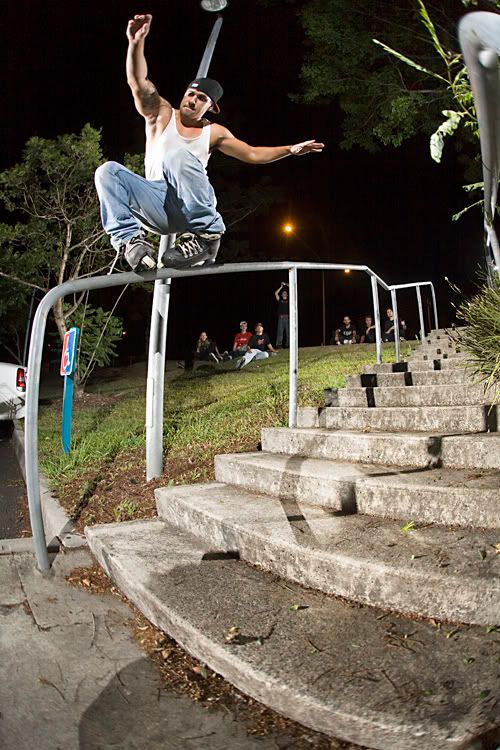 Lips / Topside Torque Soul / Garden City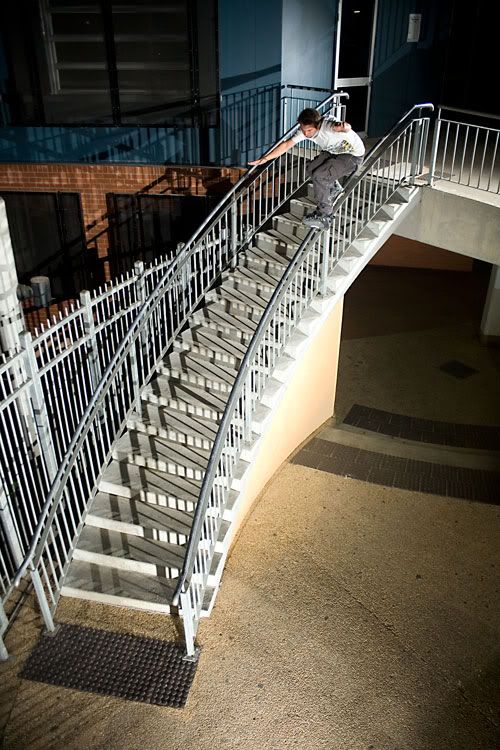 Lachy / Topsoul / South Brisbane